I started my career as stage management in the theatre before training to be a teacher.
I had a short spell in a secondary school before settling into the primary age range, eventually became a deputy head.
I started writing songs and musicals for my school and was spotted by a production company who contracted me to write the music for a two part series about horses for Channel 4.
Eventually I left teaching and took onboard several projects including writing and recording for BBC schools radio, an international reading scheme, work for various publishers of material for primary schools and also an extensive music scheme for Worcestershire County. I was also writing and recording for ITV.
I started a business called MEW (Music in Education Workshops), and took music workshops around primary schools, days which culminated in an improvised musical. Great fun.
Over the years I amassed quite a few musicals for primary age children, and started to sell them nationally myself. MEW offered schools scripts, scores and CDs with children singing the catchy melodies.
Several years ago, at sixty nine, I retired, and the selling of my musicals was taken over by a company called Musicline. You can find their link below, and, of course, should you be a primary school teacher, you might like to buy one.
This website is one of my hobbies. I have included quite a lot of old, (some of it very old!!), unpublished material, and some new in the hope that some primary aged children, (and perhaps other members of the family), might enjoy passing a few minutes listening to my often humorous songs and stories.
I hope to be adding new material for a very long time to come.
I use an Apple Mac with a midi keyboard to compose and record my songs and stories.
Very occasionally I might use a real guitar, but most of the time the sounds I use are generated by the computer, and I just arrange them how I want using a program called Logic Pro. It never ceases to amaze me.
Of course computer generated sounds can never be as realistic as real life instruments, but they can sometimes get fairly close … and of course, there are different levels of investment in IT equipment and software that can make things almost indistinguishable. I don't attain to those levels!!
If you are interested, take a look at the video section at the bottom where I try to explain how I go about constructing a song.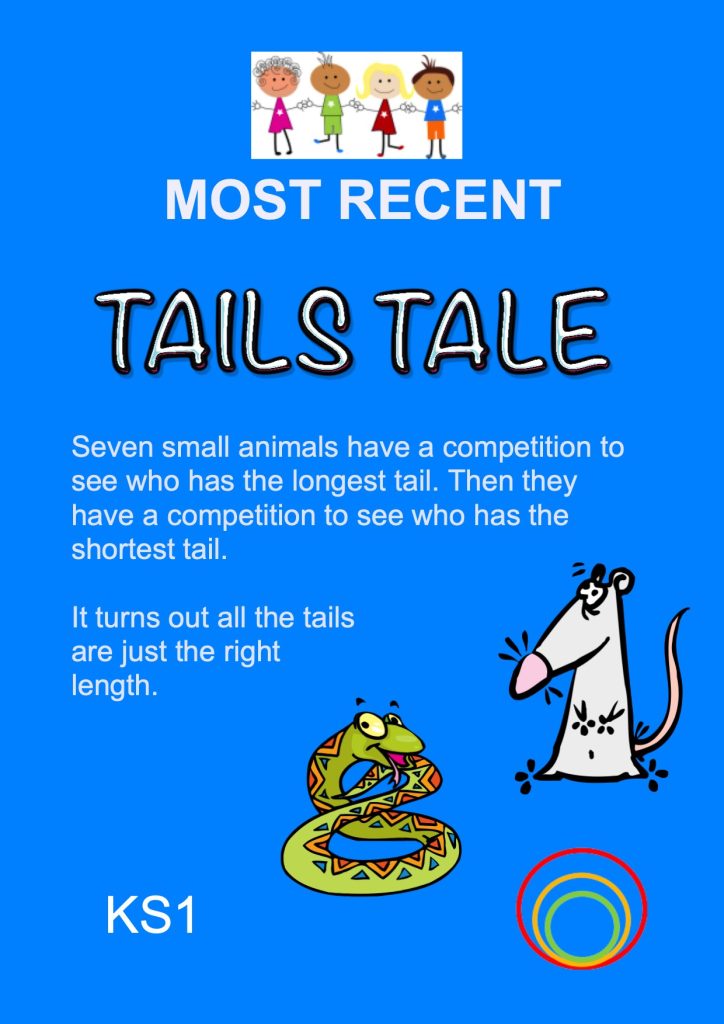 TAILS TAIL
Seven small animals have a competition to see who
has the longest tail.
Ruth the rabbit doesn't stand a chance with her little blob of a tail, but Sammy the snake says he is ALL tail … and he wins.
When Ruth suggests they have another competition to see who has the shortest tail, she wins.
Turns out their tails are just the right size for each of them.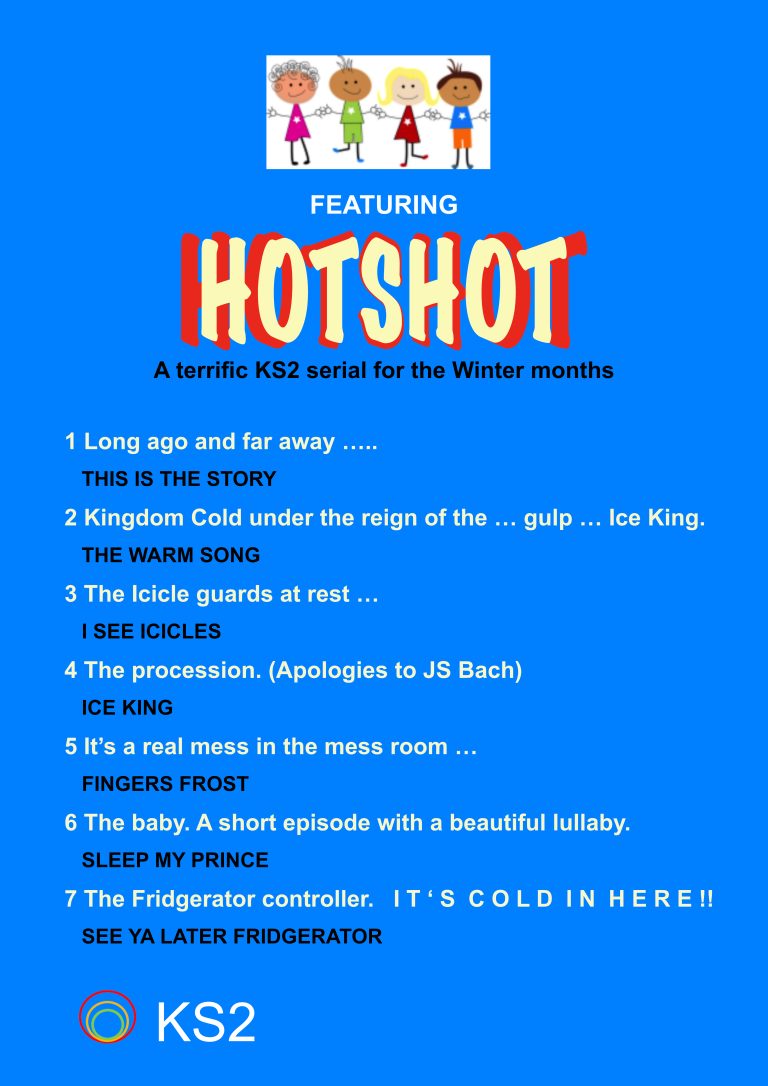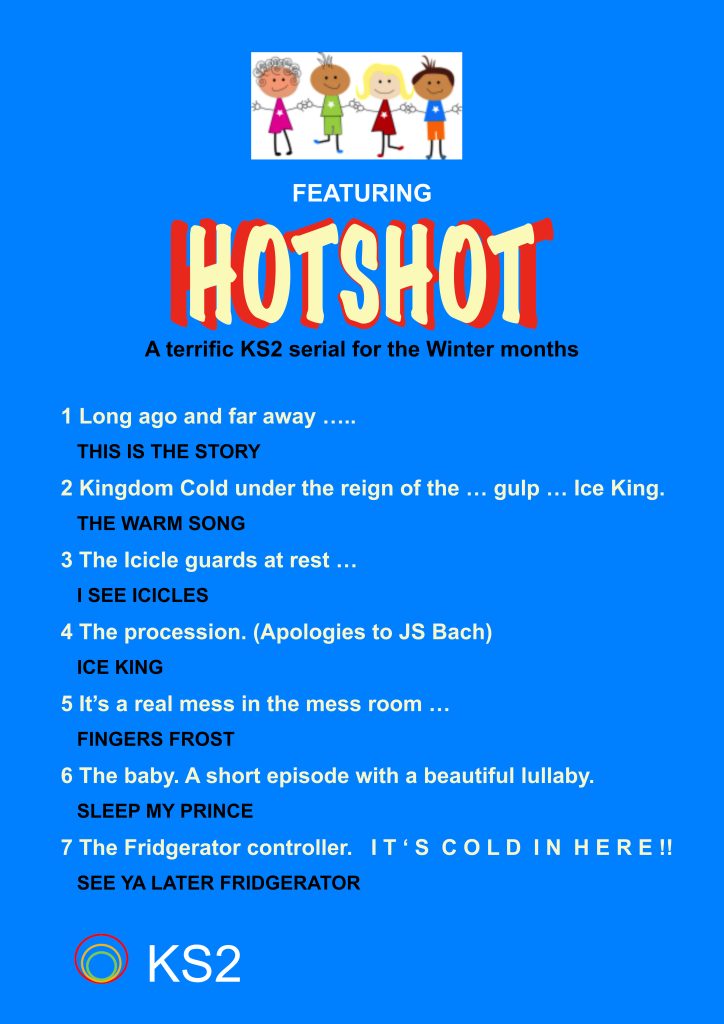 KEY STAGE 1 ITEMS YOU MAY ALSO LIKE
GOLDILOCKS
THE GINGERBREAD MAN
HUMPTY DUMPTY
LITTLE RED RIDING HOOD
LITTLE WOOLLY WANDA.  A charming video about a lost sheep.
BITS AND BOBS collections for Key Stage 1 are also very popular.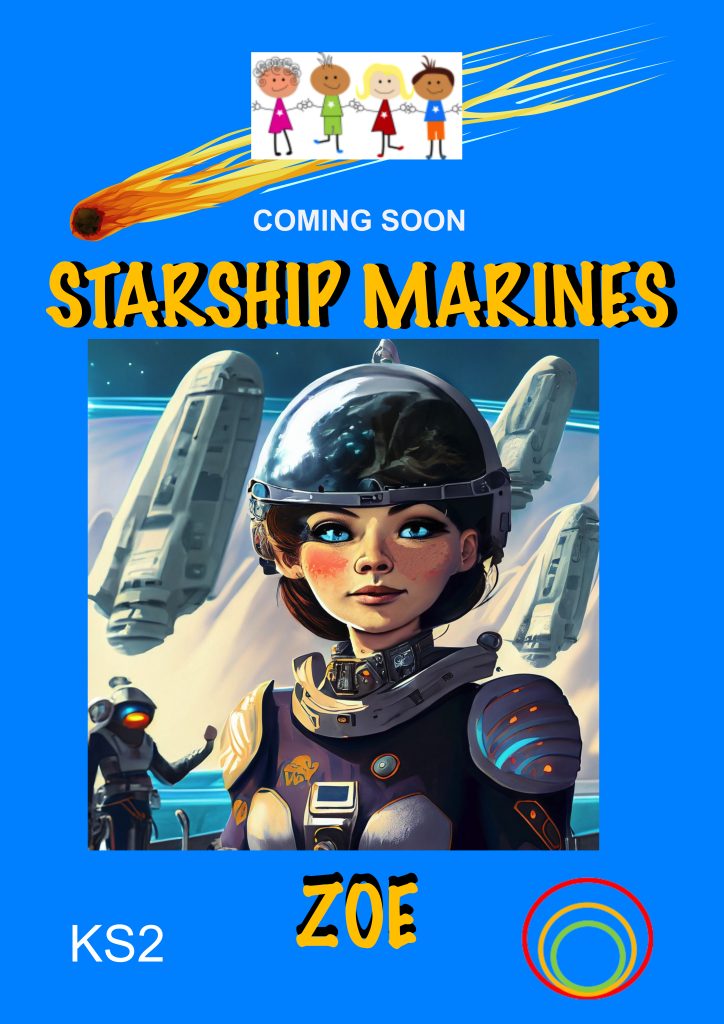 STARSHIP MARINES
The Marines, the Starship Marines.
Zoe dreamed one day of being a Starship Marine … lazering aliens into slime. Been playing too many video games probably.
Starship Marines, always ready to fly … always ready to soar .. always ready to fight … always ready to defend the weak …..
Call the Starship Marines. Oops, they're not ready yet. 
Tails Tale
Which of the seven small animals has the longest, or shortest, tail? It doesn't matter one bit.
Yeti Spaghetti
Betty has found a beautiful looking tin of spaghetti. So many artists and sculptors referenced you may need to look up their work. Educational or what!
Superdog
A young man called Cedar from that beautiful land called New Zealand, has written and narrated a story called Superdog. You've got to hear this! If you would like YOUR story published on a podcast, with a song especially written for you, then get in touch. THERE IS NO COST.
Stuck in the Mud
Two young ladies from New Zealand, Estelle and Addie, suggested this story and also contributed with some of the puppy sounds. Three dogs visit a pond and puppies Toby and Hazel chase a duck. They get stuck in the mud, but Fluff gets a stick and pulls them out. Well done Fluff, and we'll done Estelle and Addie!
Pets Win Prizes
Taking part in this show are a parrot, a tortoise, a pig, and your favourite puppy, Fluff. They will all get a prize of course.
Weird and Wonderful Me
Space … the final frontier. Man's mission? …. to listen to this ACE story and song. Flerbeloof, from the planet Transelminium in the Smarth nebula, looks weird. REALLY weird …. but don't judge a book by its cover.
Ant on Deck
Arthur Ant was going bananas … or at least he was going WITH bananas on a boat. He didn't know quite how he had got on the boat, but he was stuck with nothing to eat but squishy bananas.
PLEASE PEOPLE
…. used by BBC Schools Radio many years ago, it is still up there on the conservation topic. When will humans ever learn?
Three Brown Bears SONG
Taken from the GOLDILOCKS AND THE WHATJAMACALLEMS podcast
LITTLE WOOLLY WANDA
The song comes from my podcast A HEAP OF SHEEP. Woolly Wanda wonders about wandering, and ponders the unknown yonder.
SIDNEY SNAP'S SUPER CIRCUS
The circus is a great success, but sadly it has to move on to another town.
Making My Podcasts in Logic 9: PART 2
Using the podcast THE THREE LITTLE PIGS I show how I used digital instruments to construct the backing.
STATION OMEGA
An episode that is literally out of this world! What is the alien craft hurtling towards them, and can Captain K save them?
MONKEY BUSINESS
Just one song here …. fun, as you might guess. The firm is doing pretty well selling bananas, whilst being pretty scathing about humanoids!
GREY DAY LOOMING
Single, thoughtful song…. everyone has grey, down days, but hopefully the sunshine will eventually appear. A nod to the blues .
REALWAY RAILWAY
Take a trip on the Realway Railway. The Gospel Train makes several stops on its journey and reminds us of some characters from the Bible. You could explore their stories for yourselves later on.
Making My Podcasts in Logic 9: PART 1
How I made SONG AND STORY WORLD podcasts. Basic song writing, arranging and Logic 9 techniques.
Making My Podcasts in Logic 9: PART 3
Using the podcast THE THREE LITTLE PIGS, I look at the vocals and effects … including Melodyne and reverb.
HONEY BEE
The song comes from my musical THAT'S MY CAT, shortly available to schools on https://www.musiclinedirect.com/all-mew/
LOST FOREVER
A song for Mums and Dads, but more especially Grannys and Granddads. Just where has the time gone?
SNEEM
The Sneem Theme was the first piece of music I ever wrote. The piece was embellished and extended here for use on ITV.
HORSES
Written for Channel 4.
RAGSO
Incidental piece here from ITV. Incidental means that is played in the background and not featured. Wallpaper in other words.
Goldilocks SONG
Taken from the GOLDILOCKS AND THE WHATJAMACALLEMS podcast.
Goldilocks and the Bears
Goldilocks and the Whatjamacallems Three bears discover that their porridge has been got at, a chair is in bits, and there is a little girl with golden hair having a kip in Mitch's bed. GOLDILOCKS THREE BROWN BEARS
It's Christmas
A variey of festive fun! A plethora of festivity! A profusion of merriment … SOME CHRISTMAS SONGS.
Bits and Bobs 8
I REALLY NEED A HEAD .. and other bits. TUESDAY NIGHTS .. Granddad comes to play. ALL THE WORLD IS PEOPLE .. people are the same, but different.
That's My Cat
A story with songs for ages 4 to 6 (ish). Songs sung by children. Marmalade the cat is new to the farm and wants to play.
Bits and Bobs 6
Three songs for children aged 5 – 6 (ish) OPPOSITES … quite a list. DOWN UPON THE FARM … Farm sounds for the children to join in with. SHAKE IT … simple fun exercises for hands and legs.
Bits and Bobs 4
Three songs for children aged 5 – 6 (ish). MEAN AND GREEN … it's a dragon! LUCKY TO HAVE MUSIC … yes we certainly are. BUSY AS CAN BE … parts of the body that work hard.
Bits and Bobs 2
MRS RAINBOW'S RESTAURANT … food. Mmm. ONE EYED JACK … a pirate, turned fisherman. TASTY TEATIME … MORE lovely food.
Bits and Bobs 1
LISTEN HERE, sounds children can make. SOMETHING I CAN DO, runnning, jumping etc. BITS OF ME AND YOU, functions of teeth, tongue, toes, and skeletons!
Beans and Bacon
Morris, the country mouse, goes to the city and gets fed up … of a dog.
Bits and Bobs 10
OUR WORLD … look after the world near you. MONKEY BUSINESS … the clan market their bananas. CIRCUS CLOWN … What do YOU want to be when you grow up? (also applies to Grannies and Granddads).
Bits and Bobs 9
GIMME JCB … Dig those holes man! THE KINGFISHER … Bob is a great fisherman, but the kingfisher is best. WOBBLY WHEELS … Need biscuits? … it takes you to the plums!
The Old Cataract Hotel
A holiday on the Nile … the only problem? Crocodiles! Maggie and her family move to a hotel in Aswan which actually has a pool … and no crocodiles! (It does serve brilliant baklava though)
Pleasant Weather
Joe would rather take a walk than cut the grass. Who wouldn't? And here's another question … who can get the man's posh coat off … the wind or the sun?
Party, Party, Partay!
Everybody has been invited to help out with the farm jobs … and then have a party. BIG RED PIG PARTY, PARTY, PARTAY!
A Heap of Sheep
Woolly Wanda, Mary's little lamb, would wonder about wandering, and ponder the unknown yonder. After Wanda had wandered, I t turns out that Wanda was fonder of where she had been in the first place! WOOLLY WANDA LOST PROPERTY
Making Time
Ben wants to buy a cuckoo clock for his Dad. WORKING AWAY CUCKOO CLOCK DREAM MACHINE
The Three Little Pigs
THE THREE PIGS build their houses, and then, HUNGRY NOW … the wolf tries to blow them down … and eat them!!!
Jolly Holiday
Jenny and Andrew go to the seaside for the day with their Granddad. ON A TRAIN : SO LONG AGO : UNDERWATER : FUNFARE
Grasshopper Blues
Gray the grasshopper and Ant the ant have different ideas about how to spend summer. Who will do the more sensible thing?
Porridge and Stuff
A Prince, Queen, Captain, Pirate, Bear and … porridge. QUEEN QUINQUIDINE : I AM THE CAPTAIN : LISTEN : THE JOLLY ROGER : FRIENDS
Custard and Stuff
A dragon, a knight, a king, a princess oh, and Bob. What more could anyone want? TELL ME A STORY : CUTHBERT CUSTARD : WATCH THAT DRAGON : ALL'S WELL THAT ENDS WELL
Jack and the Beanstalk
Traditional story told in humorous, non-traditional way, with children singing four great songs … (but I would say that). LITTLE BROWN COW: OFF TO THE FAIR : UP THE BEANSTALK : FEE-FI-FO-FUM
Who?
Dr. When and Dr. What come to earth to find the true meaning of Christmas.
Wizard of a Party
Part of a series of Aesop's Fables.
Going to the Fair
Another episode in the Aesop's Fables series.
Bits and Bobs 7
SWITCH ON THE POWER … different power sources, and the power of lightning. MERELY MEANDERING … Jim sends his model boat downriver to the sea. HI-RISE … The best place to live.
Cry Wolf
The Aesop fable about The Boy Who Cried Wolf, but with a new feel … and a great song.
Little Red Riding Hood : 12 mins
Sweet little girl with a red riding hood, poorly granny, hungry wolf, beefy chap with an axe … that's it.
Ruby Red Riding Hood SONG
Taken from LITTLE RED RIDING HOOD
Axeman SONG
Taken from LITTLE RED RIDING HOOD
Hotshot EPISODE 1
No, it's not Star Wars! This is a brief descriptive episode setting the scene for the story of Kingdom Cold, the Ice King, and, later, Hotshot. Eight episodes in all. SONG : THIS IS THE STORY, sung by children of primary school age.
Hotshot EPISODE 2
The populace of Kingdom Cold is revolting … well complaining anyway. Some of them are actually quite nice. A street trader is trying to sell mittens. It's exciting stuff!! At least there's a great song … THE WARM SONG.
Hotshot EPISODE 3
The Icicle guards assemble for their briefing from Sergeant Snowdrop. What a shower … or should that be snow flurry?
The Gingerbread Man
HEADLINE : FOX EATS BISCUIT !! Doesn't sound too exciting, but it is. This is my version of the famous story about The Gingerbread Man. Two great songs. Suitable for 4 – 6 year olds.
The Billy Goats Gruff
Far from being silly Billies, little Louise, middle Mickey and larger Benny Billy Goat Gruff are more than a match for a revolting troll.
On the Roller Coaster
Any sort of relationship is like a roller coaster … it has its ups and downs, its roundabouts, its thrills and disappointments. Here is a VERY old song of mine with which many grownups may empathize.
Hotshot EPISODE 4
We finally meet him … The Ice KIng. There is unrest among the populace however, and one subject confronts the King with … A HAIR DRIER. Oooer!! A great song … THE ICE KING
Hotshot EPISODE 5
Teatime for the troops. Mavis and Edie discuss Mavis's visit to the doctor about her … ooer … blocked pipes. Then, suddenly, even WORSE news.
PORRIDGE PROBLEMS
Do you have problems with porridge? No? … lucky you. Listen to the problems Melody had with her magic porridge pot.
Hotshot EPISODE 6
A baby is born who is. (gulp). WARM. Lovely lullaby sung beautifully by children.
Little Red Hen
From seed to plate the little red hen has had no help from her friends in making bread. They still want a slice though.
Magic Mirror
What does life hold in store? A thought provoking song for both children and adults
Humpty Dumpty
Eggsactly what you would eggspect.
HOTSHOT Episode 7 : THE FRIDGE
The Fridgerator man has come over all melty as Hotshot starts to reveal his power.
The Same Old Story
An old song of mine; the battle of right and wrong which is in all of us to some extent. No-body is perfect.
Hotshot : Episode 8
Finally people are freed from the grip of Kingdom Cold and the Ice King. Tingly toes and warm noses at last!
Over the Moon
Bertram has a collection of balls, which is bizarre … beach balls, tennis balls, golf balls, footballs. He doesn't play with them, he displays them. Bizarre. One night he sees a lovely white ball floating in the sky that he wants for his collection. Hmmm. What a silly Bertram.
Easy Way Out
Just a song about relationships. This one seems to have gone slightly awry.
Dreams
Nobody wants a monster in their bedroom. Well Jane didn't. Mum showed her that there weren't any and Jane went to sleep dreaming lovely dreams.
SPIDER
Miss Millie Muffet wasn't scared of some crummy little spider. She made friends with it.
Incey Wincey
Incey certainly was a determined little spiderling.All that effort, all that sunshine, all that climbing … but he got there in the end. Well done that spider.
I Want to Be a Frog
Tadders the tadpole can't wait to do the things frogs do and eat the things frogs eat … oh, and to croak.
Bunny
A fox tries to scare Bunny, but Bunny is clever. He tells the fox that the thought of being thrown into the bramble patch scares him the most. Little does the fox know that Bunny just loves brambles.
Put Them in the Trolley
A charming, simple song for the very young. Items are numbered and added to a supermarket trolley … 1 loaf of bread, 2 pizza packs, 3 pots of jam etc. Easy lyrics to sing along with, and good visualisation of numbers to ten.
Higgledy Piggledy
Higgledy Piggledy is a big, pink pig. He finds Helen's lost necklace in the mud and becomes her favourite (sometimes) indoor pet.
You're So Lucky : SONG
YOU'RE SO LUCKY … to be who you are and where you are … particularly poignant considering the war in Ukraine.
Never Give Up : SONG
Never give up … never give in … you can get there. A song of encouragement for 2023
SPIKE the friendly hedgehog
Spike is a hedgehog. As he wanders around the farm lots of animals come up and snuffle around him … until they see his spikes ! Two children carefully pick him up, and after a while Spike feels safe to poke his little nose out. After saying hello, the children carefully put him down again and Spike shuffles off to find some more grubs to eat.
Roanna the Robot
Ruth likes to watch Roanna working. Roanna is her friend.
The Emperor's New Clothes
The Emperor falls for a scam and ends up riding around town in his underpants.
King Clot
The crab on the shore thought King Canute, or King Cnut as he was sometimes called, , should be called King Clot. Who on earth would order the tide not to come in?
Are You Really There?
Is there a God? Is He really there? For me the answer, many years ago, became, I'm afraid, no. How about you?
Golden Gordon
Gordon wanted to be rich. One night he woke up from a dream to find that everything he touched turned to gold. He WAS rich. But then ………
A Pup Called Fluff
Roll up, roll up and listen to Fluff, the singing dog!! Months in training, this pooch should be wowing them at Eurovision. What a talent.
If you'd like to get in touch, please fill out my contact form and I will get back to you.
If you'd like to get in touch, please fill out our contact form and we will get back to you.